Shortiejacks – $1500
AKC + EJRTCA Breeding rights may be purchased for an additional $500.
Smooth/Broken/Rough – Embark Tested
Solid Shortiejacks aka Hunt Terriers – $1500 (breeding rights additional $500 except blues listed below.
AHTCA Registered – Embark Tested
Smooth/Broken/Rough – B/T – Chocolate – Chocolate Sables – Black – Sable – Lilac
Rare Solid Blue Shortiejacks aka Hunt Terriers
BLUE CARRIER – Full Breeding AHTCA Reg. – $1750
BLUE OR LILAC SHORTIE – Limited AHTCA Reg. – $2000
BLUE OR LILAC SHORTIE – Full Breeding AHTCA Reg. – $3000
AHTCA Registered – Embark Tested
Initial Deposit
PUPPIES: under 4 weeks of age
$300 deposit required
Balance required paid in full by puppies 6th week of age
PUPPIES: over 6 weeks of age
Requires payment in full at time of selection
Payment Information
$300 non refundable deposit required to reserve a current or planned litter section.

Payments accepted by:
Cash
Credit card
Check (with 10 day hold)
After deposit is placed on a pup, the new owner and I will discuss an optimum time for receiving your new pup. Consideration is given to the time of the year receiving a pup, the amount of time the new owner will be able to spend with the pup, and travel during warm/cold months.
Domestic Purchase Including Shipping
Domestic purchase w/ shipment: (including shipment if applicable) are due in full at six weeks of age
Domestic shipping can be estimated at $400 to $800 for most shipments. I use a ground shipper that is very reliable now. Sometimes the ground shipper will flight nanny to further destinations.
Includes travel certificate
Domestic Purchase Including International Shipping
I no longer ship internationally.
If you are from a foreign country, please check your importation requirements before deciding to purchase. You will be required to receive your pup at a US destination.
Health Guarantee – Purchase Refund Policy
*Health Guarantee does not include routine puppy preventative care such as: vaccinations, worming, fleas, poisoning, accidents, neglect, malnutrition, abuse, skin disorders due to stress, environmental tolerances or lack of preventative care from fleas or maintaining healthy hygiene. Conformation, ear set, coat at maturity, or bites are impossible to predict when puppies are purchased at 8 – 10 weeks of age. Standing ears, body and leg freckles are cosmetic. Legs slightly less than straight remain common in this breed and will not qualify for return or replacement.
Please Note: I do not refund the purchase price of the puppy. If you are unable to take the puppy at a given time and have paid for the puppy in full, I will list the pup back up for sale and refund the purchase price minus the deposit and any expenses I have incurred at that time. I furthermore make NO assumptions or guarantees regarding puppies requested to be placed with full registration, with or without purchaser's intent to use pup for breeding purposes. Puppies are vet certified at time of placement. Any/all imperfections are noted on the vet certificate (health certificate) including results of current exam for under/over bites, inguinal/umbilical hernias, luxating patellas, and testicles descended on males. There is no way to guarantee that puppies purchased will continue to mature as anticipated, as there are many factors that can alter a puppies development. Therefore, we do not guarantee breeding quality or ability to breed when purchased at such a young age. I do NOT refund price of any pup. Puppies that are placed with breeder/buyer per-acknowledged imperfections, such as over/under bites are "SOLD AS IS" and will be stated in writing that both parties are aware of the imperfections.
*NON MEDICAL RETURNS APPLIES TO: families that no longer have the ability or desire to keep a puppy that is already in buyer's possession. Russellville Farms puppies will always welcomed back home or breeder will assist buyer in search for new home. *Health Guarantee does not include normal routine puppy preventative care: such as vaccinations, type of housing or care that could contribute to imperfections.
Buyer Cancellation Disclosure
At buyer's request, seller agrees to remove selected puppy / adult / pre-birth pick reservation from current available list with full disclosure that should buyer decide to cancel their confirmed purchase or reservation for any reason, buyer will forfeit the $300. non-refundable portion payment applied towards buyer's purchase or reservation.
Is a Shortie the Right Puppy for Your Family
Buyer/Seller Responsibility: At buyer's request, seller agrees to remove selected puppy/adult currently listed as available, or pick selection from advance pre-birth reservation, with full understanding that should buyer decide to cancel purchase or reservation for any reason, the buyer will forfeit the $300 non-refundable portion of payment received/applied towards purchase/reservation as a non-refundable cancellation fee.
Domestic shipments (including shipment if applicable) are due in full at six weeks of age
Domestic shipping can be estimated at $400 to $800 for most shipments. I use a ground shipper that is very reliable. At this time, American Airlines is the only airline shipping puppies via cargo and flights are very limited. Sometimes the ground shipper will flight nanny to further destinations.
If there is not a puppy of your choice, you may choose from another litter. Please contact us prior to sending a deposit. Phone calls are preferred
We want to talk to our potential puppy family. This helps us find the best puppy for your family.
To the prospective buyer, some of my questions include:
Have you ever owned a Jack Russell Terrier?
If so, why do you prefer Jack Russell Terriers to other breeds?
If you have not previously owned a Jack Russell Terrier, what do you know about a Jack Russell Terrier?
Will you be able to spend a lot of time with your new pup?
How will your pup be able to live in your new home? For example, do you plan for your pup to live inside or outside your home? Or both?
Have you discussed owning a Jack Russell Terrier with your vet?
How do you plan to housetrain your pup?
Do you have children? If so, what are their ages? Have you discussed the responsibility of owning a pup with them?
Do you plan to raise Jack Russell Terriers? If so, what organizations are you involved with? How equipped are you to raise a litter of pups?
Do you prefer a more/less active pup?
What type of markings do you prefer?
What size pup do you prefer?
These questions are certainly not meant to intimidate you, but to help you make a responsible choice in choosing a Jack Russell pup that will rewarding for both you and your new pup. Happy dog owners and happy pups are the ultimate goal of my breeding program. Most of my pups are placed by referrals and happy owners refer programs that help them make good decisions.
After a deposit is placed on a pup, the new owner and I will discuss an optimum time for receiving your new pup. Consideration is given to the time of the year receiving the pup, the amount of time the new owner will be able to spend with the pup, travel during warm/cold months, etc.

Health Guarantee: One year health guarantee. Does not include routine puppy preventative care such as vaccinations, dewormings, fleas, poisoning, accidents, neglect, malnutrition, abuse, slightly less than straight legs, or environmental tolerances. Conformation, ear set, or coat are impossible to predict on a young pup. A standing ear, body, leg freckles are cosmetic. Straightness of legs is impossible to predict and can depend on many factors besides genetics and are not included in the guarantee.
Registrations
Registration will be provided in your Puppy Pack at time of personal pick up or shipping. In most cases we are allowed to attach your puppy pack on top of the crate if traveling by air. If not we will send by USPS mail. Instruction on how to complete registration can be found at EJRTCA™® Print the necessary forms and follow the directions to complete registration. Puppy must be at least 6 months of age before registration can be completed.

Health Testing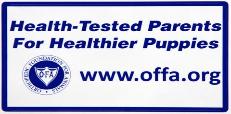 We embark test our shorties for over two hundred health concerns that are known to affect several breeds and eight that are breed relavant. Embark also tests for many different traits such a color, coat, shedding, furnishings, just to mention a few.
NuVet Supplements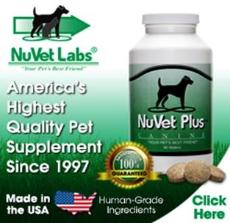 NuVet Supplements As important as a healthy diet is, we firmly believe that in this day and time, that even the best high quality food may not always be enough. This is why we provide NuVet Plus Supplements. Puppies are born with immature immune systems. It takes time for puppies to fully develop a strong immune system. NuVet Plus helps bridge the gap.
We put our shorties and their puppies needs first and foremost. We feel that all dogs greatly benefit from this human grade supplement.
Call: 1-800-474-7044 using Order Code: 34861 or order online
Choosing Your Pup: Male or Female?
Most puppy buyers have a personal preference when making the choice between male verses a female puppy! Many behavioral characteristics are more common in males while other characteristics are more common in the females. Evaluating the characteristics may be helpful in determining which sex best suits your lifestyle.
If you notice this in special the puppies, person and tolerate others
Independent: Females prefer to be in control. They may come to their owner but may leave when they have had enough attention
Stubborn: A female is typically the ALPHA of their pack. They desire to control most situations and may respond to perceived challenges.
Territorial: Like males, a female (in tact or spayed) may mark their territory.
Protective: Females are more protective of their home or (from their canine perspective) their den.
Behavior and mood changes: Females start cycling around 6 months of age, and twice yearly thereafter. Their hormones increase during their heat cycle and their behavior or moods may be altered. They pass a bloody discharge and odor that attracts intact males.
The following characteristics often apply to males. Keep in mind, these are generalizations and there are exceptions
1) Affectionate: Male dogs are typically more affectionate than females. They tend to crave more attention from their owners (more than the females do) and share more affectionate behaviors with their family members.
2) Attentive: Males tend to be more focused on their human companions, while the females tend to be a bit more independent. They are eager to please and prefer to remain close to their special person.
3) Food Motivated: Males tend to be more food motivated which makes training easier. When they exhibit appropriate behaviors, it is important to reward them with treats.
4) Exuberant: Male dogs maintain a fun loving and puppy like exuberance throughout their life. They love to run, play, and fetch.
5) Aggressive behaviors: Intact males may display aggressive behaviors toward other males and exhibit marking behaviors. It is a known fact that the neutered males are more loyal, make better pets and are easier to obedience
train.
6) Protective: Males are more protective of their yard or (from their canine perspective) their territory. Most of them like to patrol their yards and mark the diameter with their scent. If another dog marks something they perceive as theirs, they will mark over it.
If you have any questions in reference to the information above please feel free to contact me and I will be happy to answer your questions and provide you with additional information. If you already have a dog and are considering adding a new dog or puppy to your pack:
1) If you already have a male or female, a dog of the opposite sex is generally the best choice. Dogs of the same sex are more likely to challenge each other, than dogs of the opposite sex.
2) If you already have a male dog, he will likely be more accepting of a female, and you will have fewer dominance issues if you add a female to your pack. However, if you decide to add another male to your pack, they can peacefully co-exist with your guidance. It is important to closely monitor their interactions from the very beginning. Never allow aggressive behavior from either dog. For long term peace of mind, it's highly recommended to neuter both males.
3) If you already have a female dog, she will likely be more accepting of a male. Most males tend to be more submissive. If he does not challenge your female, most likely she will not instigate a fight with him. Adding another female to your pack may be more challenging (depending on their personalities) The toughest combination is two females because they are more likely to fight than a male and a female or two males.
Many breeders and knowledgeable dog people own many females that coexist together without conflict, because we maintain the alpha position and watch for the slightest signs of discontent. Our females have established and accepted their pack hierarchy and we reinforce it. Whether you choose a male or a female, is your personal preference. The characteristics listed above are generalizations, do not apply to every dog. There are many variables that modify behavior. Depending on the birth order, many male puppies display female characteristics and many female puppies display male characteristics.

Please Take Note:
Spayed females and neutered males are less likely to exhibit the (gender specific) behavior issues and disrupt your canine pack. Spaying and neutering also eliminates territorial marking.
Is Your Home Ready For Your Puppy
How old are the pups when you let them go to their new home?
Most Jack Russells are released after eight weeks. Some I keep longer. This depends on the situation it is going to be placed in. Sometimes the prospective owner may be spending some time traveling or be "out of pocket" and not ready to accommodate a new pup in their home and I don't mind keeping the baby until his/her new owner is ready. I also like to make sure the pups have had at least two vaccinations before traveling to their new home.
Are your dogs good with children?
All of my pups are socialized with my granddaughters which play inside the house and outside the house with them, dress them, wrap them up like babies, cuddle them, etc. Many of my pups go to homes with children, so far the most part, all of my pups have been good with children. I do begin watching my pups as soon as their personalities start to develop and the pups that come out of the crate first are usually the more outgoing. This is not ALWAYS the case but many times will follow this pattern. Carefully continuing to watch the pup will help determine how aggressive a pup will be. You can also watch behavior with siblings. More dominant pups will control their siblings. Usually the pups that are the last to come out of the crate are more shy and will not be as aggressive. I usually spend more time with these pups to make sure they get the proper socialization and they end up being super sweet, loving pups.
In rare cases, some pups do more become more aggressive over time. This is usually due to their environment and can be corrected in most cases with recognition of the problem and steps taken to correct it.
Also, what is your adoption process for the Jack Russell Pups?
I really like to talk to the person on the phone adopting the puppy. I want to make sure that the persons adopting a pup are ready for a jack russell terrier – not everyone is. They are not for everyone. If they want a dog that constantly wants to be a part of their life and they have time to spend with a dog then jack russells are a great reward.
Facilities
The home for my adult jack russell terriers was built March-May of 2005 It boasts 10 outside runs, the smallest being 11 x 90 feet and the largest 30 x 93 feet. All 10 outside runs have access to their own inside area where they can go to stay cool/warm depending on the time of the year. In the summer, the kennel is air conditioned and in the winter there are heaters and a wood burning stove to keep them warm……. Inside you will also find cabinets to store doggie items in, a wash basin (perish the thought!), and a hot water heater to make the water more suitable…. oh, the life we must lead…
How to care for your new jack russell pup…
People have different circumstances that enable them to take care of their new jack russell puppy in different ways. However, there are some standard practices that should be utilized when bringing a new puppy into your home.
Make sure your home is "puppy proof". Just like babies, jack russell pups will get into just about anything. Things that can be chewed easily, wires, things that can be easily swallowed are just some examples of things that need to be removed before your new jack russell puppy comes into your home.
Purchase a crate. If your pup does not already have his own crate, it is a good idea to purchase one. It needs to be enough that he can fit into it comfortably but not large enough that he can soil one end and sit on the other. IF he learns that he has to sit in his own soil, he will learn more easily to hold it until he can go outside.
Purchase good food. I feed Nutri Source. It is not a really expensive food and they do very well on it. I am sorry, but Old Roy just doesn't cut it for me. It needs to be a quality food made by a quality pet food distributor.
Purchase a harness for your jack russell puppy. Harnesses are much easier to use in training your pup to lead and they are not so easy to get out of . Buy one that will fit your pup. You can get one that can be adjusted way down to fit your pup, but if needed go to a smaller size. Your pup is worth the price of a good harness.
Be consistent. When you are potty training your jack russell puppy, be consistent in his training. Don't take him out one time and then the next time it is too cold or too rainy so "I will just let him go inside this one time and take him out next time". You must be consistent and your pup will learn to potty by what touches the bottom of his feet. If it is carpet, then it will be carpet…..
Spend lots of time with your new jack russell puppy. Nothing makes a better dog than human companionship and nothing is more rewarding that a jack russell that loves you will all his heart.
Consult others when you have problems. I will answer any questions that I can and if I don't know the answer, I will ask someone that I think does know. You can always learn more about your jack russell puppy. It is an ongoing process throughout your life and his.
Take good care of your new pup. When he needs shots/deworming, do it. Keep your jack russell puppy on heart worm preventative. It is some trouble but MUCH less expensive and less heartbreaking than your jack russell puppy carrying heart worms and having to be treated to get rid of them. It does not hurt for your pup to be checked once a year for health's sake. Just like you, a checkup might prevent future problems.
LOVE your jack russell puppy. This is your new companion for many years and the love and devotion you give your new jack russell puppy will be paid back many times over in the love you will receive in turn. It is true… once your go jack, you won't go back!!!!
Teach others about your new jack russell puppy. When you have company, let them enjoy your pup as you do, but do let them know what is acceptable behavior for your jack russell pup and what is acceptable behavior for them with your new puppy. Nothing is more frustrating that for you to work so hard with your pup only to have someone else do damage to the relationship/training you have built with your new jack russell pup. I hope you find this information valuable and please let me know there are other things I should add to this list.
Shorties are known to live up to 15-20 years. Please make sure that your family has the time to devote to a puppy's needs and are ready for the lifetime commitment to provide a loving and stable home.